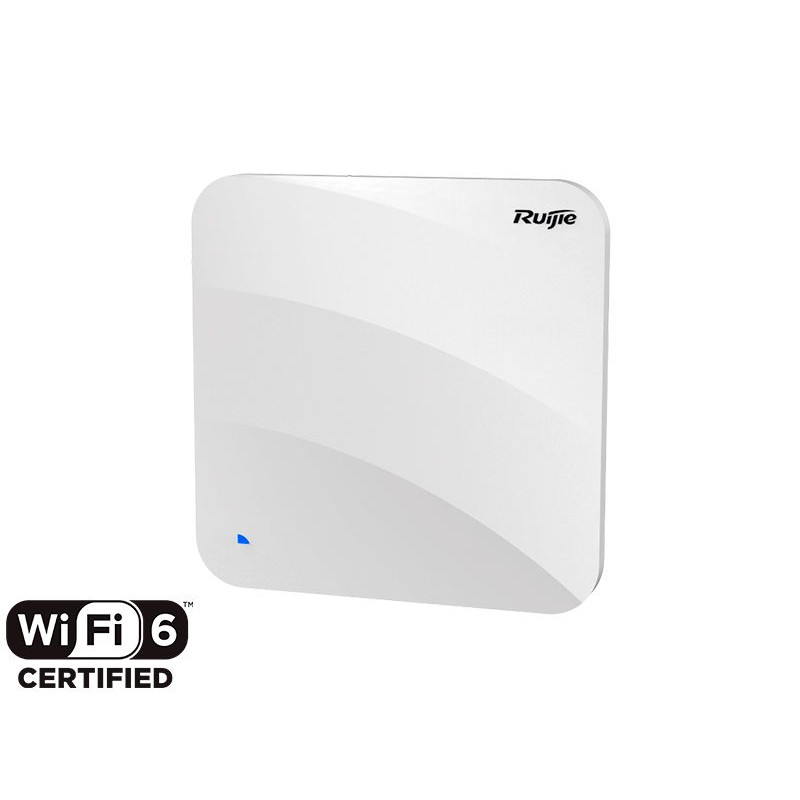  
RG-AP850-I(V2)
802.11ax three-channel dual-band Enhanced high-density wireless access point
802.11ax three-channel dual-band
Enhanced high-density wireless access point
RG-AP850-I(V2) is Ruijie's next-generation flagship ultra-high-performance Wi-Fi 6 enterprise AP designed for challenging high density indoor scenarios. With the built-in IoT module, enterprise customers can be ready for future IoT expansion to boost the operational efficiency and customer experience. The Ruijie RG-AP850-I(V2) supports concurrent dual-band tri-radio, up to 10 total spatial streams and a maximum of 6.817Gbps wireless throughput. 
Taking the advantage of Wi-Fi 6 OFDMA Modulation, MU-MIMO, and BSS Color Spatial Reuse, the RG-AP850-I (V2) guarantees minimal signal interference and a maximum of 1536 client connections. Additionally, RG-AP850-I (V2) provide three Ethernet ports with totally 3G wired access capacity, including two Gigabit Uplink port, and one LAN port for external IoT sensor connection with PoE out (passive) feature. All Ruijie enterprise Aps support hybrid management mode. Either deployed as standalone AP (Fat mode) or managed AP (Fit mode), the AP will detect the operation mode automatically without extra effort on firmware upgrade. For additional security and operation, we recommend the enterprise customers to choose either one of the below wireless controller options depending on the functionality and capacity:
Hybrid Cloud: RG-WS6000 Series Wireless Controller (on-premises) Plus Cloud Management (Optional) – targeted for enterprise office and campus with single or multiple sites and high-density AP deployment. The controller appliances are installed at the customer's site with fully integrated wireless management and authentication feature, supporting up to 5000 APs per cluster. Optionally, the cloud management platform allows for value-added features like centralized device configuration and monitoring, AI radio (RF) optimization, reporting, etc.
Private Cloud: RG-MACC Software Controller – targeted for ISP/MSP, government, or multi-national corporation (MNC) with diverse customer sites and demand on integration of their billing, portal and security systems. The RG-MACC supports unified device management, not only for wireless access points, but also switches and gateway devices
Wi-Fi 6 Technology
1024 QAM High-Speed Access
The RG-AP850-I(V2) adopts the tri-radio dual-band design. With the next-generation 802.11ax, if tri-radio is enabled concurrently, the high-speed Wi-Fi can reach 6.817Gbps, offering the true high-speed experience.
OFDMA High-Density User Access
RG-AP850-I(V2) supports OFDMA of 802.11ax, which divides the WLAN channel into a plurality of narrower sub channels, with each user occupying one or more sub channels. By scheduling multiple users to receive and send packets concurrently via the AP, user competition and back-off can be reduced, thereby reducing network latency and improving network efficiency. In a high-density deployment environment, the average rate per user is increased to four times of 802.11ac.
Spatial Reuse with BSS Color
The RG-AP850-I(V2) supports spatial reuse with basic service set (BSS) color of 802.11ax to identify the BSSs of different WLANs in the network by different coloring (BSS color), and further divide them into internal and external BSS.  Different packet receiving and sending thresholds can be maintained. When receiving packets, BSS coloring is used to quickly identify the packet of the external BSS. If the signal strength is lower than the receiving threshold of the external BSS, the packet will be ignored. The transmission of the internal BSS packet will be not affected. This technology can implement channel reuse in a high-density scenario, greatly reducing the impact of co-channel interference for the actual network deployment
TWT (Target Wake Time)
Target wake time (TWT) is used to help minimize contention between clients and reduce the amount of time a client in power save mode to be awake. Energy consumption is reduced by up to 70% of the battery consumption, thereby improving battery life.
AI Wireless Optimization
Ruijie WIS is an AI-based intelligent services platform designed for WiFi optimization on the cloud. Seamlessly integrated with Ruijie hardware AC on premise, it helps to streamline WiFi deployment planning, delivery testing as well as operation diagnosis. With WIS you can achieve:
Cloud site survey for deployment planning
Smart mobile apps for provisioning
Visualize the user experience
One-click WiFi optimization
and it is FREE!
WISπ One-click Optimization
Another key feature from Ruijie WIS is that WISπ provides one-click optimization by using the AI-based machine learning automated correlation based on the real-time information gathered from your WiFi network. It truly optimizes the entire WiFi network performance by providing the best suitable configuration fine-tuning by just a click. For more details, please visit Ruijie WIS official website at http://wis.ruijienetworks.com/.
Industry-leading Local Forwarding Technology.
Employing an industry-leading local forwarding technology, the RG-AP850-I(V2) breaks through the limitation of traffic bottleneck of wireless controllers. In collaboration with the RG-WS Wireless Controller Series, users can flexibly pre-configure the data forwarding mode for RG-AP850-I(V2). The AP also controls whether the data will be forwarded via the wireless controller according to the SSID or user VLAN, or directly sent to the wired network for data exchange. The local forwarding technology can classify and forward delay-sensitive data which requires real-time transmission through the wired network to greatly alleviate the traffic pressure on the wireless controllers and better meet the high traffic transmission requirements of the 802.11ax network.
Abundant QoS Features
The RG-AP850-I(V2) supports a wide variety of QoS policies. For example, it provides WLAN/AP/STA-based bandwidth limitations and Wi-Fi multimedia (WMM) which defines different priorities for different service data. The RG-AP850-I(V2) realizes timely and quantitative transmission of audio and video, and guarantees smooth operation of multi-media applications. With the multicast-to-unicast technology, the RG-AP850-I(V2) resolves the video lagging problem due to packet loss or high latency in the wireless network, and highly enhances user experience of the multicast video services of wireless network.
Comprehensive Security Protection
Secure User Access
The RG-AP850-I(V2) supports a wide range of authentication methods such as web, 802.1x, PPSK (one-time dynamic password for staff), voucher/ access code, user account, and social authentication. Complying with the standard network access control, it offers a set of control policies in terms of user access, authorization, equipment compliance check, network behavior monitoring, network attack prevention, etc. All these control features guarantee high network security for authenticated users.
Various enterprise authentication options for guests and employees
Simple and Effective Wireless Security Practice
Traditional Pre-shared Keys (PSK) are shared by all users on a WLAN, giving it potential risk of PSK leak-out. Ruijie  Personal PSK  (PPSK)  is  an  easy-to-setup  wireless  authentication  method  with  enterprise-grade  security  level.  Credentials can be created and revoked individually. Each PPSK can also be tied to a unique user/ machine. With PPSK, you can enjoy the benefits of:
High security by using different passwords for each user and device for individual SSID
Simple deployment with batch account creation
Ease of use, offering the same experience as WPA / WPA2-PSK
Out-of-box feature in AC
No additional AAA required
Virtual AP Technology
With the virtual AP technology, the RG-AP850-I(V2) supports up to 48 ESSIDs. Network administrator can separately encrypt and isolate VLANs or subnets of the same SSID, thereby enabling specified authentication mode and encryption mechanism for each SSID
Comprehensive Wireless Protection
Coupled with RG-WS6000 Series or RG-MACC Wireless Controllers, the RG-AP850-I(V2) offers a breadth of security features including WIDS (Wireless Intrusion Detection System), RF interference tracking, rogue AP containment, anti-ARP spoofing, DHCP protection and beyond for all-around security protection.
Hybrid Management
Flexible Management Options
All Ruijie enterprise APs support hybrid management mode. Either deployed as standalone AP (Fat mode) or managed AP (Fit and MACC mode), the AP will detect the operation mode automatically without extra effort on firmware upgrade. For additional security and operation, we recommend the enterprise customers to choose either one of below wireless controller options depending on the functionality and capacity:
Web and CLI Management Interface
The RG-AP850-I(V2) provides both web and command-line interface (CLI) for the AP and wireless controller, suitable for application in different scenarios. CLI design allows the networking professionals to perform fast troubleshooting, bulk configuration import or modification. Web GUI management should be perfect for the majority of general scenarios to plan, operate and maintain the wireless network without the need of customization.
(PoE+ or power supply sold separately)
Customers who bought this product also bought: